Recipe #1: Extra large plant salad 🥗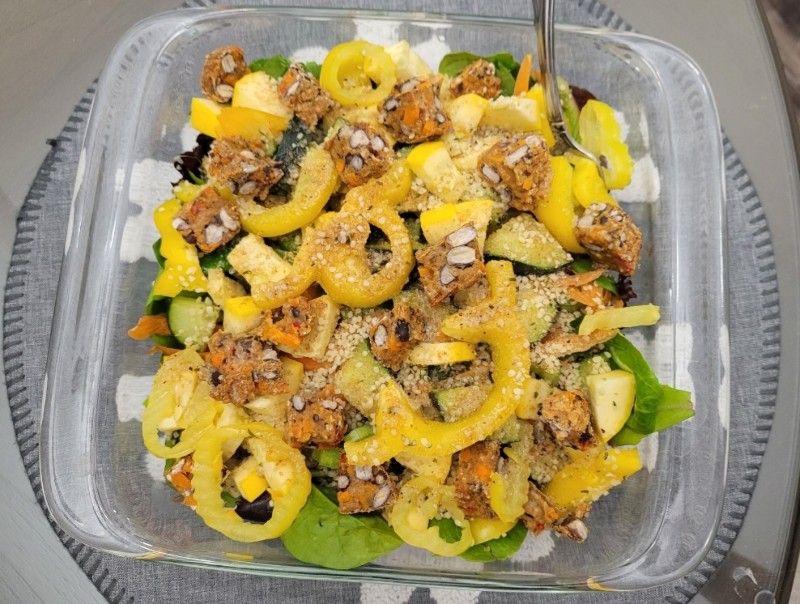 Base: spring mix, baby lettuce and super mix micro greens
Top layer: parsley, cucumber, yellow squash, peprocinnis, red pepper, shaved carrots, celery, green onions, dill pickle, Hemp seeds and flax seeds
The Best Black bean burger grilled and chopped up or edamame.
Dressing: sesame oil, fresh lime juice, salt , pepper and garlic
---
Recipe #2: Coconut red curry Thai veggies over jasmine rice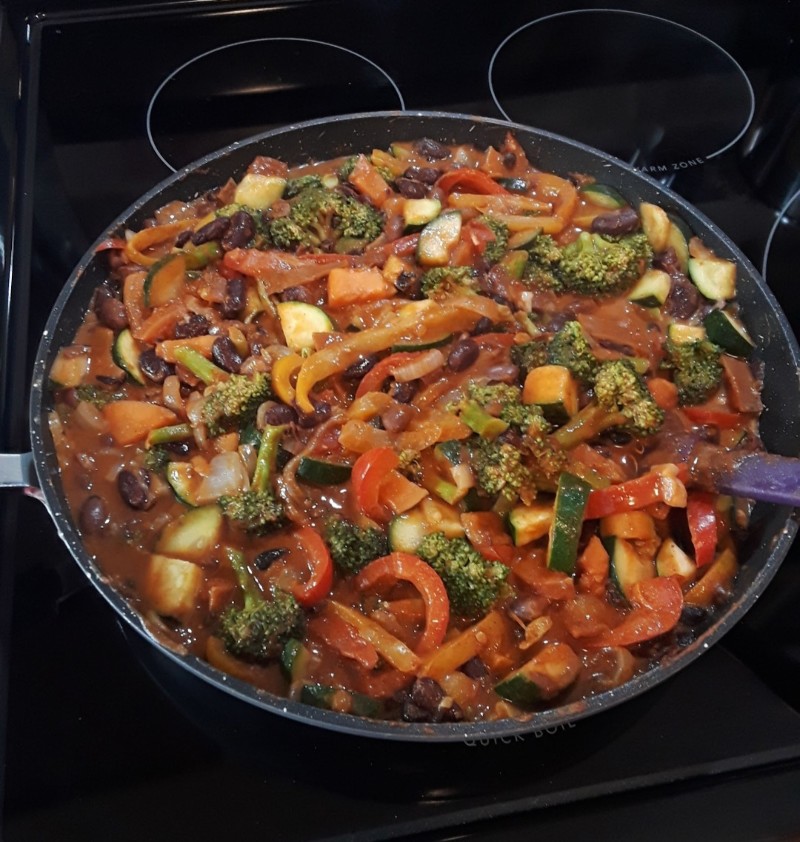 1 large skillet dish!
Cubed extra firm tofu browned use a little olive oil
Sliced sweet onion
Red and yellow peppers sliced
Celery moon shaped
Zucchini cubed
Sugar snap peas
Broccoli
Shitake and portobello mushrooms sliced
Shaved carrots
Swiss chard or collards chopped
*Add the hardest vegtables first then the ones that cook faster towards the end
Pour your can of coconut milk in the pan
Add the jar of thai paste mix well
*If too thick Add some unsweetened plant milk or if too hot 🔥
* caution on these, it can and will make it too hot
Yellow curry powder
Ginger powder or fresh grated ginger
ground Cinnamon tones it down and adds a little sweetness
I do not measure anything, I go by what I like and the taste.
Salt and pepper
This is a very large batch of food which I love. It's even better the next day. You need a big frying pan to hold all this.
All the veggies can be interchangeable depending on your preferences.
Fresh jasmine rice, buckwheat noodles, quinoa what ever you like.
---
Dessert: The~perfect~chia~bowl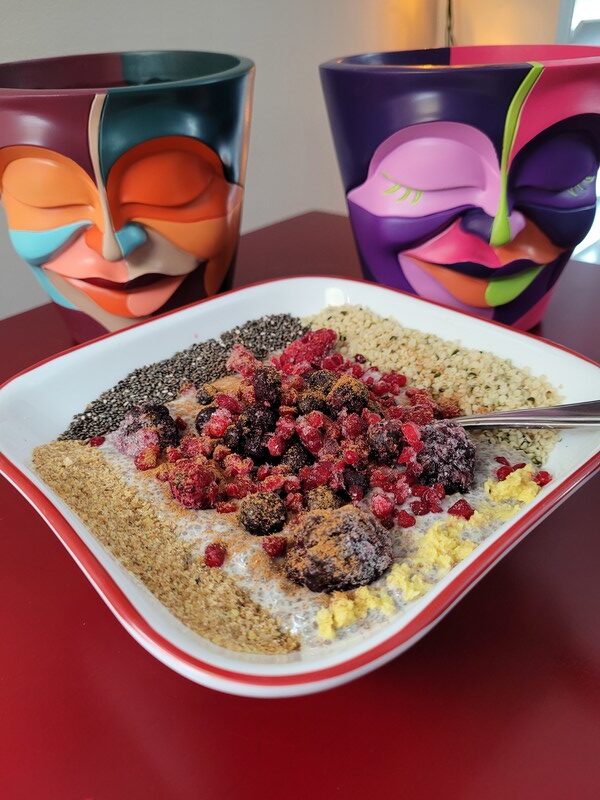 5 T. of chia seeds
1 C. dairy free milk of choice unsweetened
3 T. of dairy free unsweetened yogurt
1/2 t. of cinnamon or spice of choice
Measure chia seeds out in a bowl, pour milk on top
Stir in cinnamon
Refrigerate 30 minutes
then add yogurt
Toppings:
Pumpkins seeds, grated ginger, flax seeds, Hemp seeds, kiwi, strawberries, mixed berries
*I prefer So delishious coconut milk vanilla unsweetened and Kite Hill yogurt unsweetened
SO GOOD!!
Enjoy!!